There are over 393 known species of parrots out of which one is parrotlet parrot. These parrots are assertive and bold by nature despite being small in size. They are simply larger than life. The parrotlet bird can learn to talk too. However male parrotlet talks more efficiently as compared to the female parrotlet. They are found in a variety of colors, from bright colors to pastel color schemes. Although parrots can live for up to 100 years, parrotlet has a rather short lifespan of only 20 years. They are also known as the pocket parrot and are often mistaken for amazon parrots. Parrotlet originated from Mexico and South America, today they have spread around the globe.
Parrotlet makes a grat house bird, as it doesn't make much noise. However, they are not the best talking parrots among the rest of the parrot breeds. They repeat a few phrases but not good talkers. The parrotlet bird is a beautiful breed of parrots, small in size with a big personality. A photographer named Rupa Sutton captured their beauty in an extremely captivating manner, forming a love story. She said:" I want to show people the world that exists all around us but that we don't always see." Scroll down to see pestle parrotlet birds in love.
The ones who love the most, fight the most.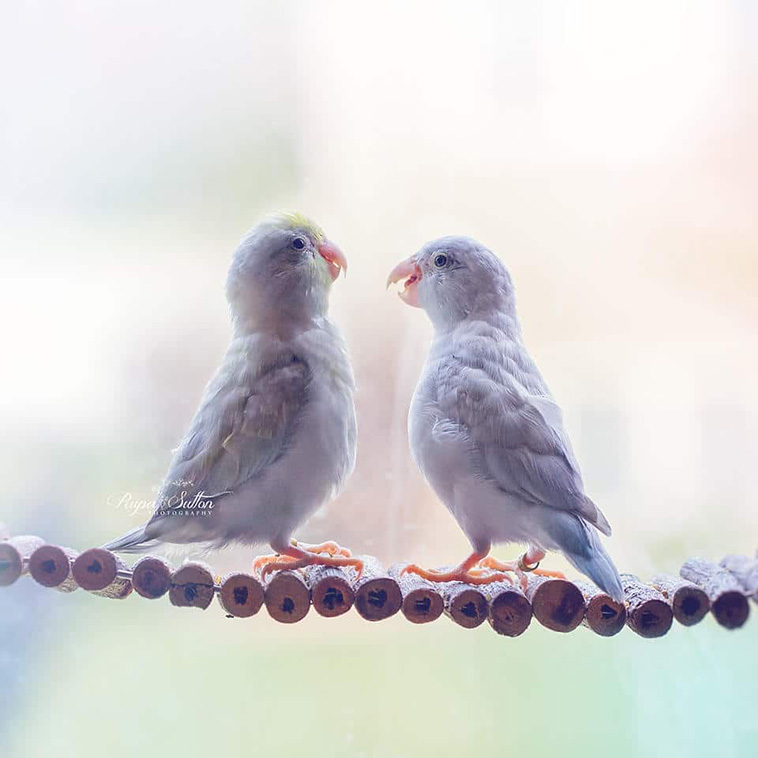 Source: Rupa Sutton
Your reaction when your crush has a crush on you too.
Source: Rupa Sutton
It's all about the priorities.
Source: Rupa Sutton
Nothing like a good massage from bae.
Source: Rupa Sutton
Love knows no language yet it exists in many forms in many regions and even among all species. Love is like a light in the heart that enlights paths that we thought never existed. Love literally changes us in unimaginable ways. When in love we only seek happiness for others. True love is selfless. It knows no 'me' or 'I'. It only knows 'you' and 'us'. Just like us humans, animals, insects and birds also feel love for one another and openly express it as well. As seen in these flawless photos of pestle parrotlet birds, the birds they are quite expressive of their love.
When your crush finally proposes to you.
Source: Rupa Sutton
There's nothing like a true love's kiss.
Source: Rupa Sutton
Posing for the wedding portrait.
Source: Rupa Sutton
Eyes are a window to the soul.
Source: Rupa Sutton
A happy couple.
Source: Rupa Sutton
Sharing a private moment.
Source: Rupa Sutton
Shy but happy.
Source: Rupa Sutton
Little moments of love.
Source: Rupa Sutton
Two birds of a feather.
Source: Rupa Sutton
Spot the third wheeler.
Source: Rupa Sutton
All these photos of this gorgeous couple are totally romantic. These two are definitely a couple goals. Share this with your loved ones and tell them how much you love them. If you have birds that are deeply in love with each other, do share their photos in the comments below.