Don't anticipate good results if you provide a translation job to someone who isn't a translator. Expect hysterically terrible outcomes. We've got a lot of good chuckles from translation disasters in the past, but we've never had one dedicated solely to menu translation. They may be rather amusing, especially when the translations are incorrect. These translations are often so hilarious that they will make you laugh to another level. As a result, we've compiled a collection of some of the most amusing menu gaffes we've come across online. Don't forget to scroll till the end.
1. I swear you would not want to try the first one on the list
2. Literally laughed so hard on this one
3. Would not want to go to Germany for getting se*ually harrassed.
4. Wanna go for lunch?
-Yes.
What do you want to order?
-Whatever's on the menu.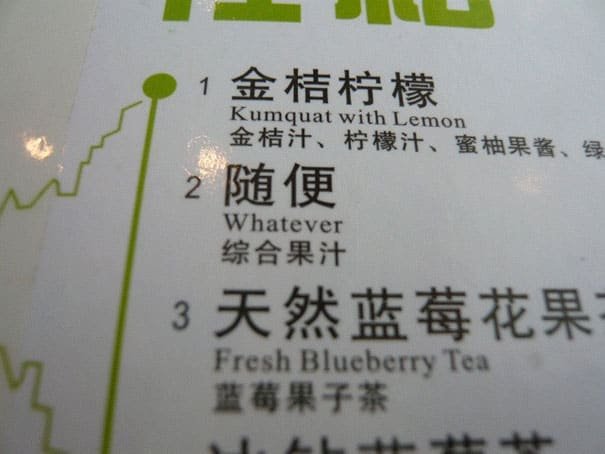 5. Wikipedia for the lunch
6. Oh my god, that's some hilarious content
7. From all the wives who were mad their husbands
8. Now it;s on you which one would you like to eat
9. Is this restaurant saying they will cook you?
10. Surely would not want that
11. Hmm..
12. Hilarious match
13. Pizza is as confused as me
14. Hahaha
15. What kind of menu are you serving, Sir?
If you think these were the most hilarious ones then you are wrong as there;e more. If you want a fun ride, keep scrolling. 
16. This restaurant is massacring babies, someone send help!
17. Can't stop laughing at the bizarre
18. Choices..
19. I would want one incredible hulk please
20. Wondering what it taste's like
21. Okay
22. I see it
23. The burger has gotten my name
24. Relatable?
26. Hysterical
27. This sh*t just got to another level
28. Crap Stick for you
29. Anus.. what?
30. How do I unsee the picture?
What do you think about this hilarious menu translation fail? Some of them were really hysterical. ever got to witness one? share with us. For more fun stuff, keep supporting us and visiting us. Have a nice day.