There are some series and movies we have watched loads of times and we remember it all even many years after watching them. Their plots, characters, and imagery all work together to make them our favorite films as soon as we view them. That is why they become classics, cult programs, and films that elicit not only popular curiosity but also absolute support and devotion. This same audience appreciates viewing them as much as they enjoy searching for hints, clues, mysteries, and hidden meanings. They, of course, discover them all.
So what are you waiting for folks? There are so many fun facts and secrets to be revealed yet. We are sure that you are going to love it!. Make sure you read it all the way to the end and let us know which one of these was your favorite.
1. Did you know Clara, the teacher, is out of focus in Back to the Future Part III?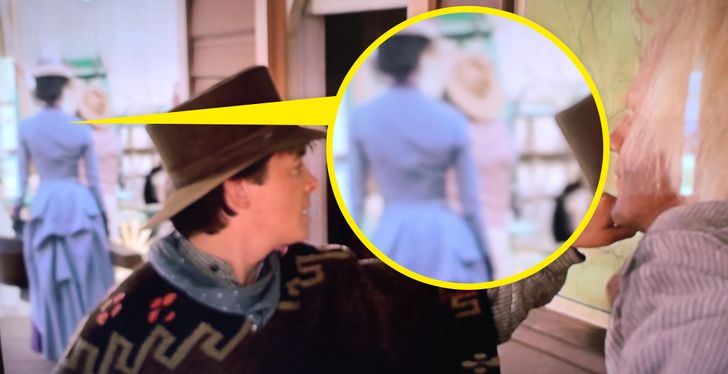 When Doc and Marty are inspecting the map at the station, they discover that Clayton Ravine is also known as Shonash Ravine. Someone is out of focus behind them, unaware of the idea that the people who would shortly save her life are present. Clara Clayton, the teacher, is seen. Her arrival in the background actually signals the precise instant in time when each of the characters' activities begins to coincide.
via: © Back to the Future Part III / Universal Pictures and co-producers
2. A relationship of dependence in A Bug's Life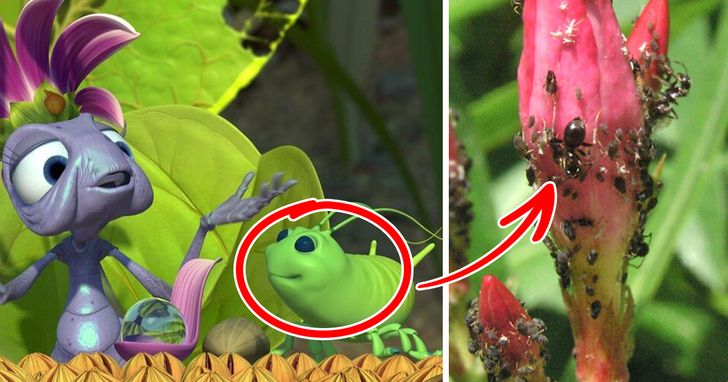 Aphie, the queen's companion in A Bug's Life, is a real-life aphid with whom the ants have a mutually beneficial relationship. On the one hand, ants guard them against potential predators, and in exchange, aphids carry food to the ant colony.
The aphid is classified as a member of the Aphididae family, and it secretes a sugary liquid known as "honeydew," which is considered nectar by both ants and bees. That's why, everywhere we see aphids, we're likely to encounter ants as well, and why they have such a close relationship in the film.
via: © A Bug's Life / Pixar Animation Studios and co-producers, © Luis Fernández García / Wikimedia Commons, © CC BY-SA 2.1 ES
3. Did you notice this in Monsters, Inc. and a cheating monster?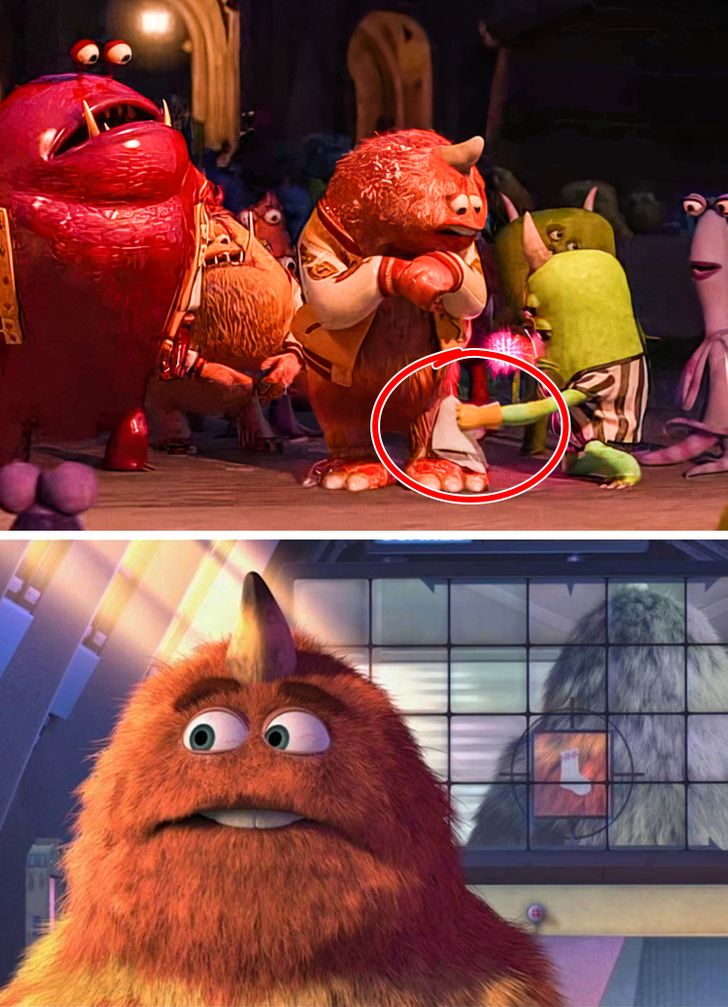 ou've probably seen the part in Monsters Inc. where the terrifying monster, George Sanderson, constantly making mistakes at work and getting children's things stuck to his thick fur. The CDA agents believe these objects to be particularly harmful (Child Detection Agency). In fact, the CDA goes so far as to shave him to properly disinfect him. He is then bathed and a cone is placed on his head to keep him out of trouble. You may also recall that this occurs several times during the film.
Apparently, the monster's reckless attitude develops during his college days, but this is only revealed in the film's prequel, Monsters University. He is disqualified in the first Scare Games task in this part of the famed Pixar franchise because, rather than learning how to keep the children's possessions from adhering to him, he wants to cheat by using illegal gels. And the possible lesson to be drawn from this is that cheating can have serious consequences, even years later, so keep to the rules.
via: © Monsters University / Walt Disney Pictures and co-producers, © Monsters, Inc. / Pixar Animation Studios and co-producers
4. Easter eggs for Pixar fans in the Toy Story movies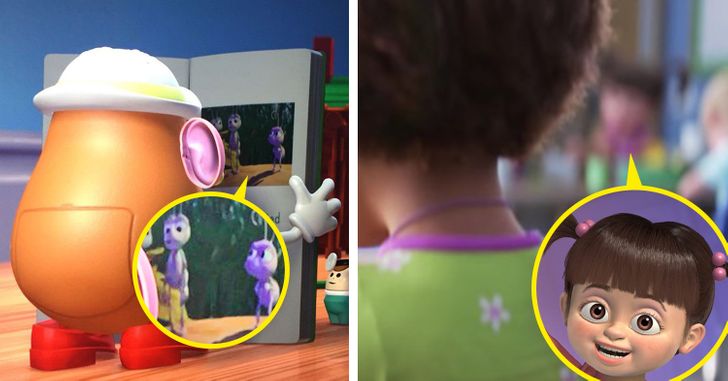 People who enjoy Pixar films are aware that one of the trademarks that have made this company renowned is, among other things, the fact that all of their films contain a concealed reference to previously published works. Characters, items, names of other short films, or simple internal allusions to Pixar workers form a network whose threads only genuine fans can see. We're thinking about the popular Toy Story films, for example. Among the franchise's many references to previous Pixar films, there are two that have received less attention.
Through hints that they've left, you may trace the presence of at least two of the studio's prior films in Toy Story 2. Mrs. Potato Head is reading A Bug's Life when Mr. Potato Head appears wearing an earring. The illustrations in this story are a direct allusion to the film of the same name. Another blurry and disguised secret fun tidbit can be uncovered in the later films. When Bonnie is in kindergarten, busy making Forky, she is viewed from afar, blurred, and at another table by the legendary Boo from Monsters, Inc.
5. Heroes and villains share a secret location in Daredevil and Spider-Man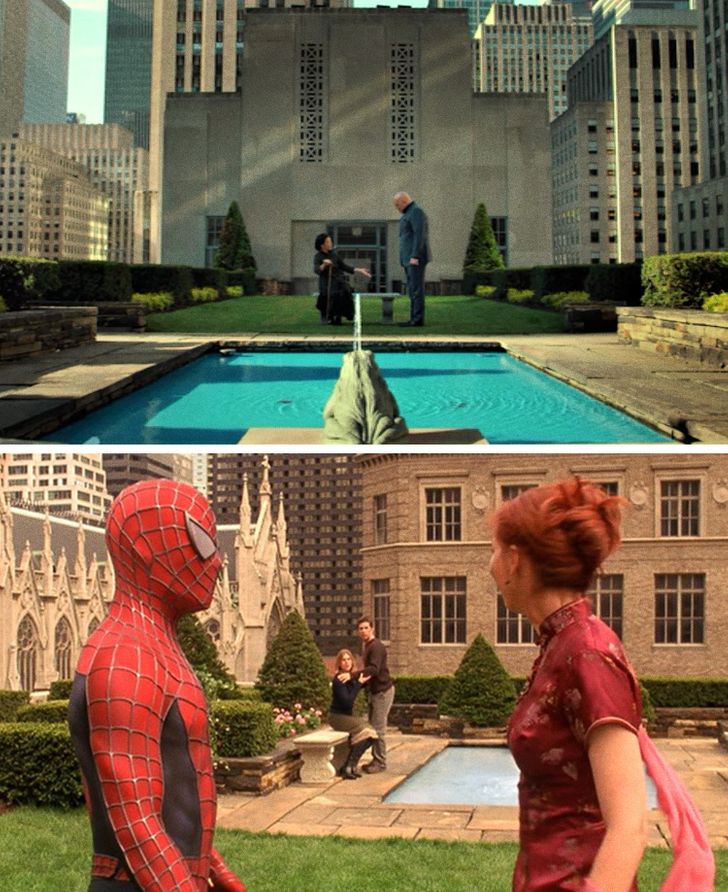 Daredevil and Spider-Man are both Marvel franchises, therefore they theoretically belong to the same cinematic universe. Marvel, it appears, enjoys connecting its films in the same subtle ways that Pixar does. However, although Pixar offers hints to past works, Marvel does not make them as obvious. Only the most diligent and devoted viewers will be granted this privilege. It's possible that only true fans have noticed that Spider-Man and Daredevil have a very specific location.
In case you didn't know, we're talking about the hidden rooftop gardens of Rockefeller Center, a skyscraper in New York City. In a scene from the first season of Daredevil, Fisk and Madame Gao have a secret conversation there. However, Spider-Man leaves Mary Jane thereafter rescuing her from the Green Goblin, as you may recall.
6. The pink bear drifting in Breaking Bad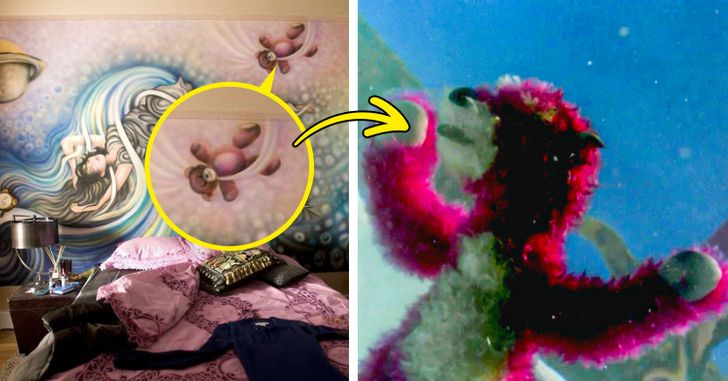 Jane's father enters her room after his daughter's death to hunt for proper funeral garments. A mural created by the girl may be seen at the beginning of the scene and throughout the narrative. There's a woman that resembles Jane there, as well as a pink bear drifting adrift on the upper right side of the wall. Walt discovers a nearly similar teddy animal in his pool following an aircraft tragedy caused by her father.
7. Did you know? Tom Hanks learns from a child in Forrest Gump.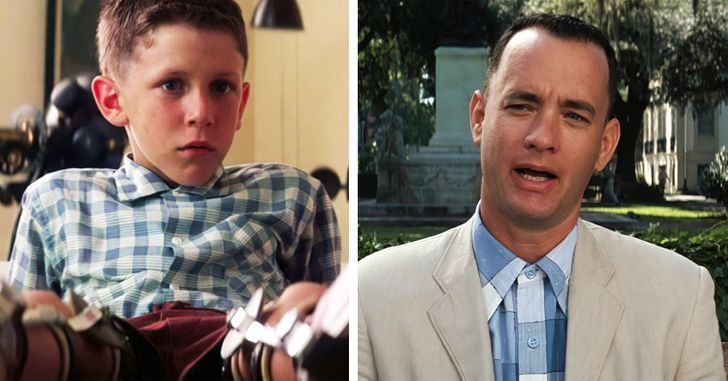 Tom Hanks discusses the origins of his famous character's southern accent in an appearance with The Graham Norton Show. Apparently, the young Forrest influenced his adult character far more than we believed. Hanks claims that Michael Conner Humphreys, who plays his character's young version, struggled to break out of his customary southern accent and speak in a more neutral tone. So, rather of pushing him to change his speech pattern, Hanks decided to mimic the child's accent while playing his character. That's how Forrest Gump got his famed southern drawl.
8. Stranger Things' Eleven shares an outfit with a very special character.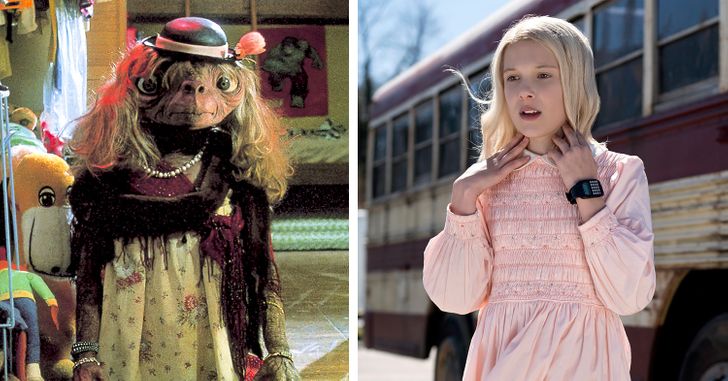 The famed series' creators, the Duffer brothers, acknowledged their affection for Steven Spielberg and, more broadly, for the style and ideas of some of the 1980s' most successful films. That's probably why there are so many references and links between Stranger Things and all of the other films that were released in theatres around the world more than three decades ago.
Those of us who have seen E.T. on several occasions will detect a subtle nod to Spielberg's classic film throughout the series. It's reasonable, however, that younger fans would have missed a few subtleties. Consider the similarities between E.T. and Eleven. They both have telekinetic skills, are in danger, and are misunderstood by the rest of the world. Eleven and the alien are both hidden by children who ride bicycles and are in charge of their protection. And, as you can see in the collage above, they both hide.
Gertie, the young girl from E.T., played by Drew Barrymore when she was just starting out as an actress, disguises the perplexed alien in a frock and a blonde wig. Eleven is disguised by the youngsters who are hiding her so that she can attend school as well. Although the girl appears to be more at ease in the costume, they both appear strange and uneasy in an attire that plainly does not reflect who they are..
9. Did you notice a special guest at the funeral in Men in Black 3?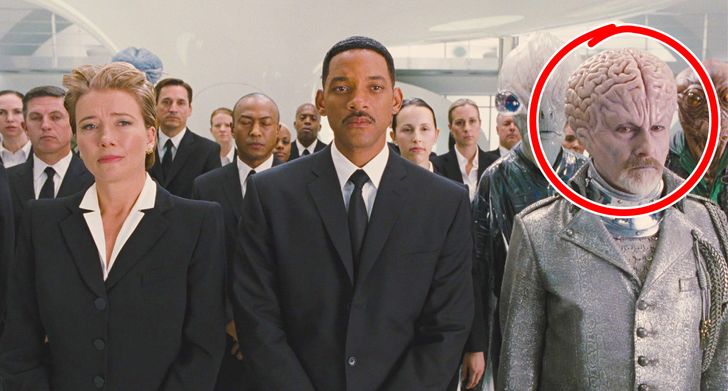 The alien who appeared in this particular scene is actually Rick Baker, yeah we were also stunned to know. The special effects and makeup artist is known for creating the world's most famous movie creatures. He
won
an Oscar for "Best Makeup" with
Men in Black
.
10. The LEGO Batman Movie and the first Batmobile on the back cover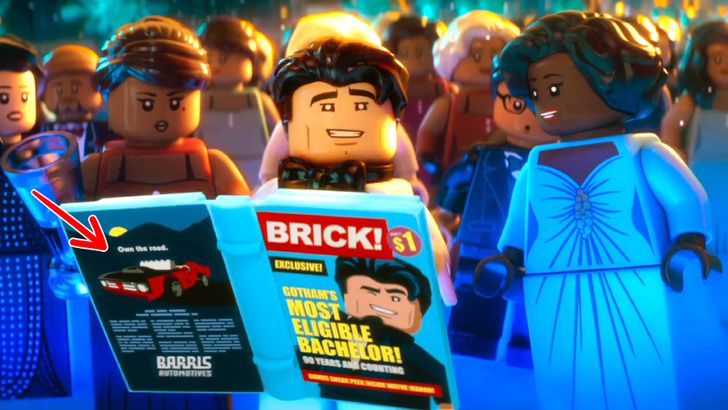 At Commissioner Gordon's retirement celebration, Bruce Wayne, not the superhero, picks up a magazine featuring his face on the cover. Barris Automobiles is advertised on the back cover. In the 1960s, George Barris' Barris firm designed and built the Batmobile solely for the Batman series.
11. In Luca, we see that a blow to the head doesn't always make you see stars.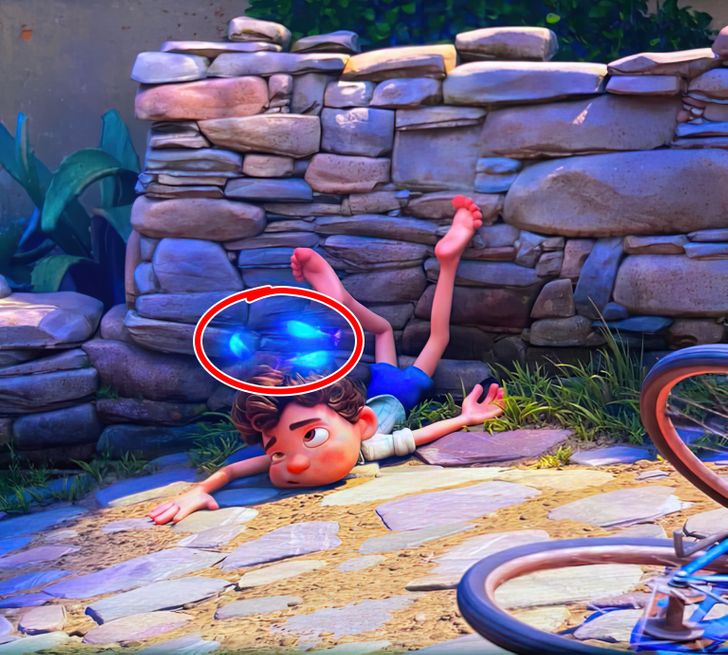 When the main character of Pixar's Luca falls off his bicycle and strikes his head, he sees anchovies rather than the typical yellow stars. This was due to Alberto, his faithful aquatic companion, telling him that the stars were actually small shiny anchovies.
12. Did you know that in The Truman Show, the key is in the name of the characters?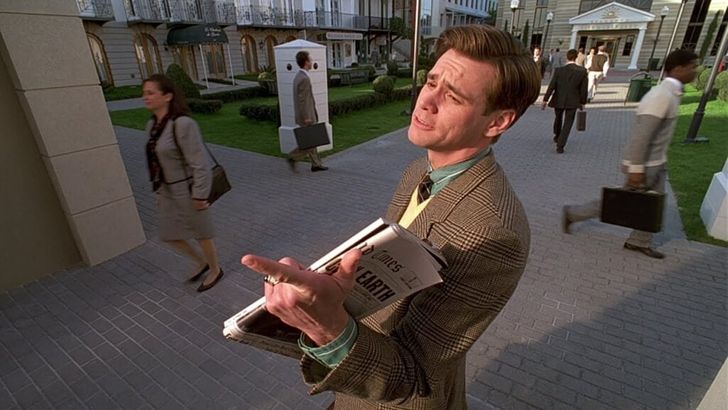 Truman's imaginary life is filled with minutiae, Easter eggs, and hints that appear almost simultaneously to both him and the audience. We may notice them before the character does, or he may be the first to "open his eyes." One of these hints can be found in the names of the streets and residents of the town where he resides.
All of the streets in Seahaven are named after movie stars, such as Meryl (for Meryl Streep), Marlon (for Marlon Brando), Lauren (for Lauren Bacall), Kirk (for Kirk Douglas), and so on. Except for Truman, whose name is a combination of the terms "truth" and "man," this is true for every character. He is the sole character whose name
does not refer to an actor, implying that he is not acting.
Let us know what you think about these hidden fact in the comment section below. Make sure to like and share it with your friends and family. Stay tuned with Defused for more fun content. Thank You!.